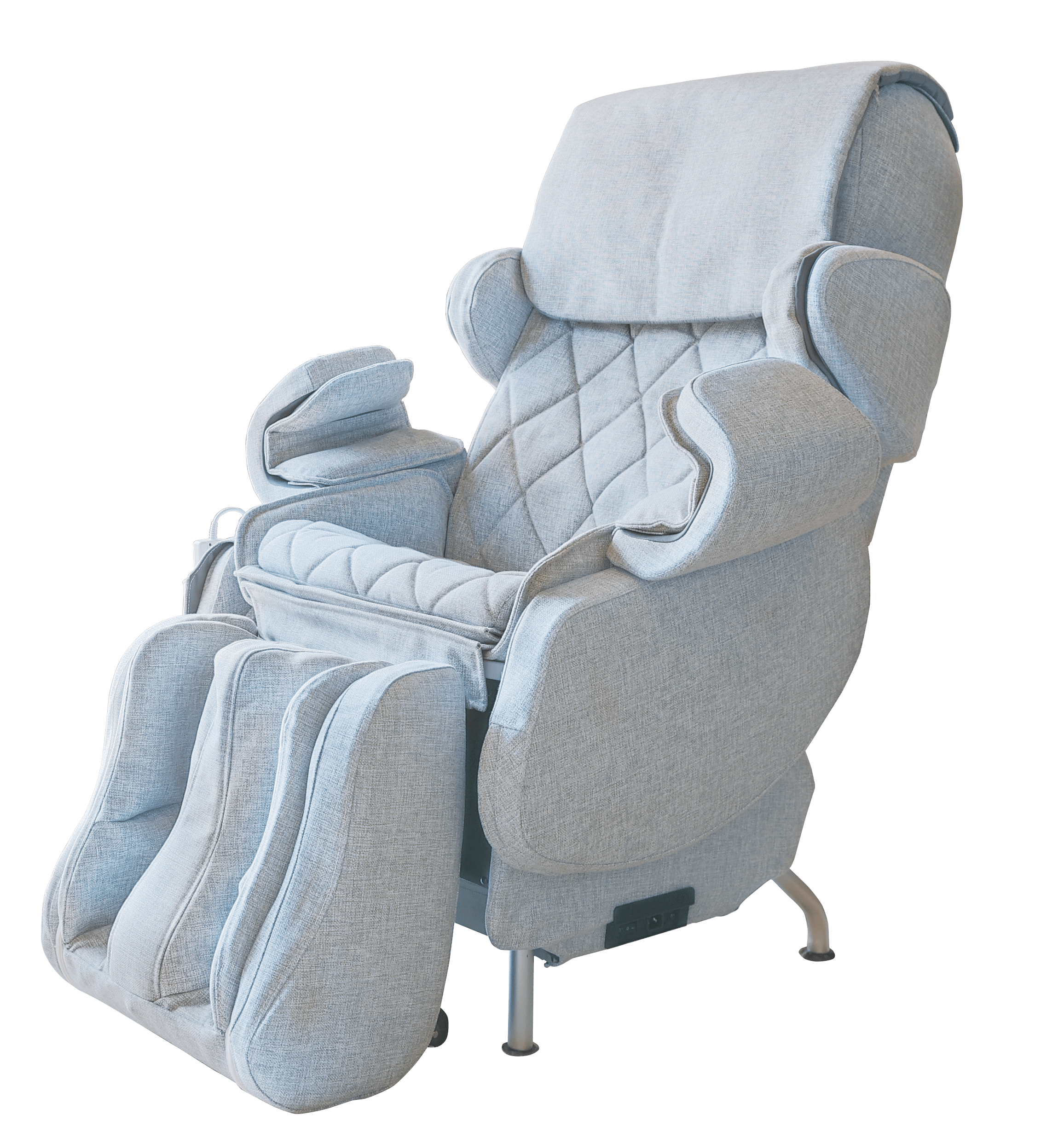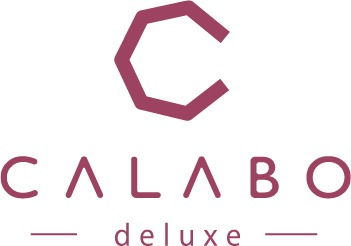 Calabo Deluxe
We focused on attaining a furniture-like design including its colours, fabrics, and forms and the like to fit living spaces.
Starting today, your home is your relaxation salon no matter what your lifestyle is like.
MSRP $6999 CND
Designer Inada Chair

In response to concerns such as "wanting an authentic massage function, but not having much available space in the room," or that "the massage chair is too large to be moved or installed," we have attained a compact space design of the smallest class for our authentic massage machine.

AI Stick & AI Massage Mechanism

The points and intensity of the body stiffness differ from person to person. Equipped with an AI stick that fine-tunes the AI massage mechanism to move just a tad one way or another, to move just a little up or down and to make fine adjustments to the strength, allowing you to get the massage that suits you best.

AI Sole Massage Mechanism

In addition to the compression effect of conventional air massage, "AI sole mechanism," a new technology equipped with protrusions that directly stimulate foot pressure points, promotes blood circulation from the feet to the whole body.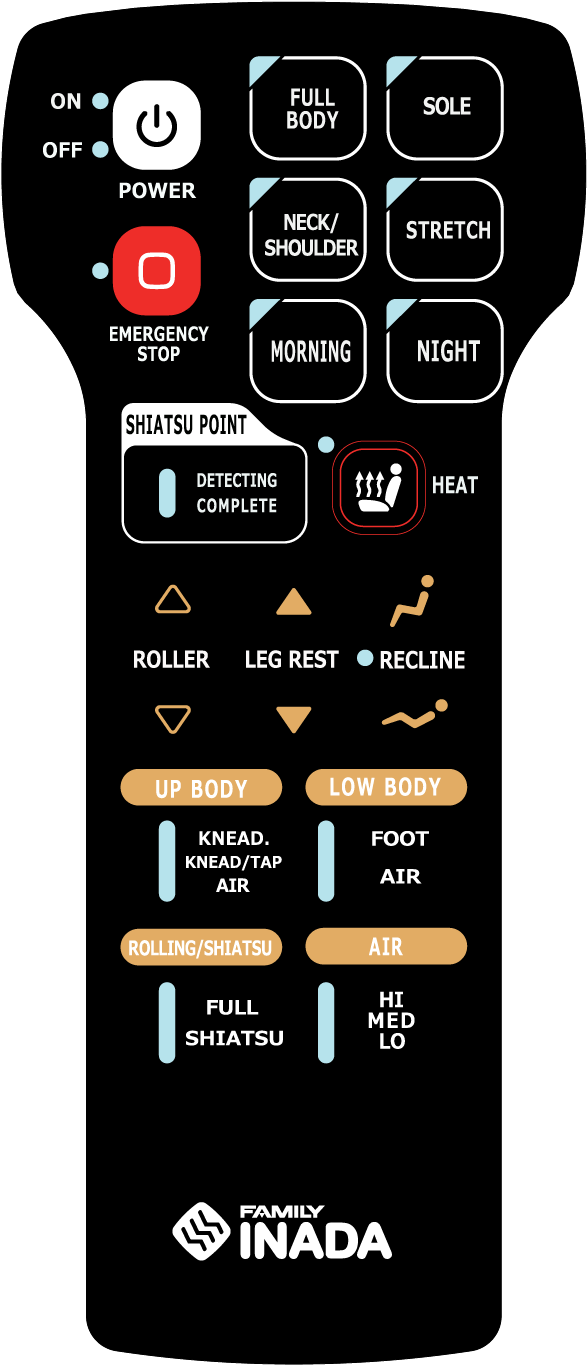 Morning

This newly developed physical conditioning program promotes blood circulation throughout the entire body, and quickly activates your body. This supports to motivate you and bring you vitality. 

Night

This newly developed health maintenance program focuses on promoting blood and lymphatic flows. This promotes recovery from fatigue and helps to relieve fatigue and stress. 

Sole

In addition to the conventional air massage, the newly developed AI sole mechanism stimulates the pressure points of your feet by pushing in three-dimensional movements, and helps you to approach good health from the soles of your feet. 

Stretch

This is the Family Inada's unique program for stretch focused on "posture" and focuses on intentionally stretching your abdominal muscles and your entire back to increase your body's flexibility and balance.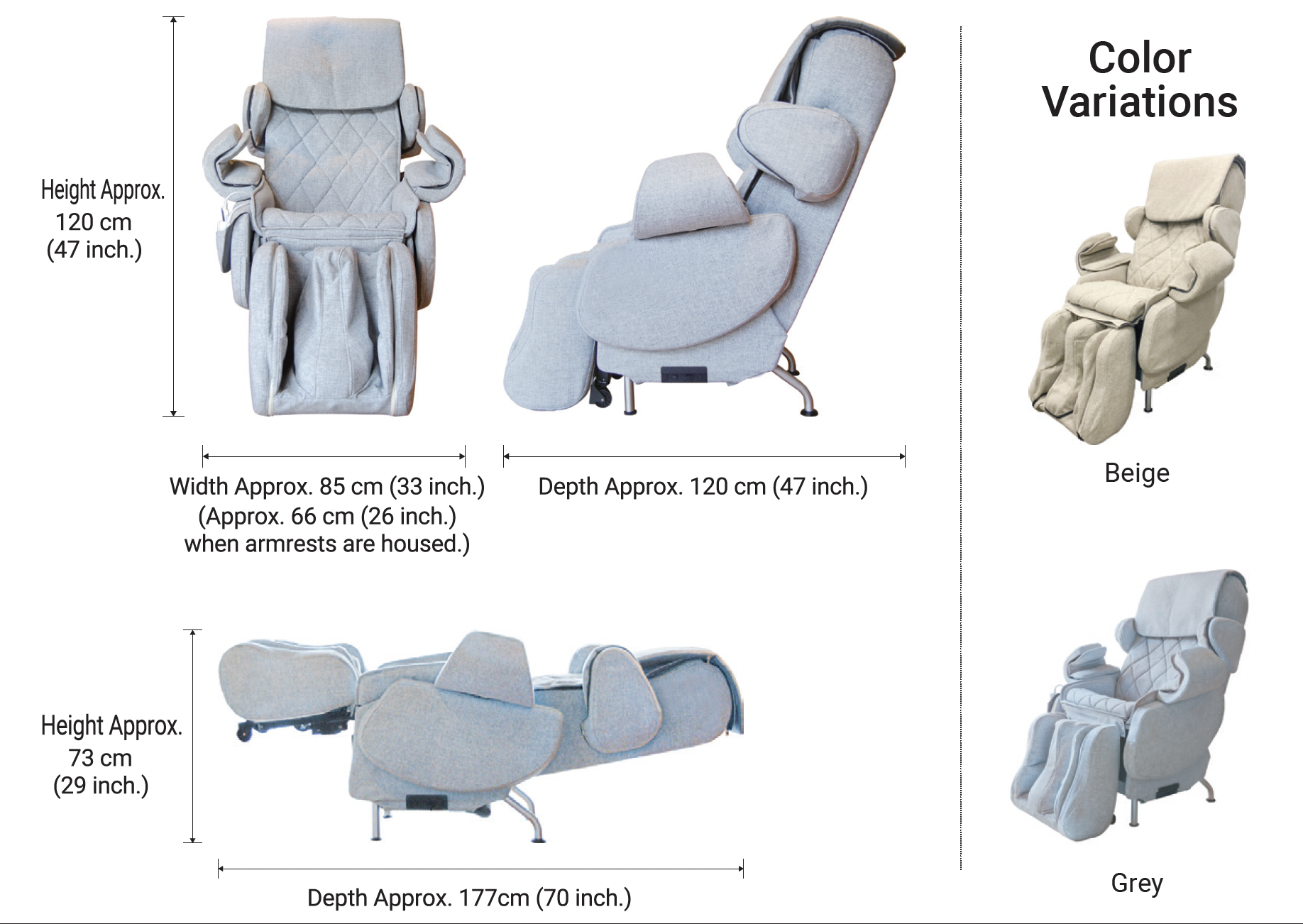 Product Name
AI Inada Chair CALABO HCP-AIC100
Colour
Beige (CW)/Grey (HD)
Exterior Fabric
Synthetic Fiber
No. of Automatic Programs
6 Programs
No. of Preferred Programs
3 Programs
<Upper Body> Kneading, Kneading and Tapping, Air
<Lower Body> Sole Kneading, Air
<Roller/Shiatsu> Full Body, Shiatsu
Main Unit Dimensions
Width Approx. 85 cm (33 inch.) x Depth Approx. 119 (175) cm (47 (69) inch.) x Height Approx. 120 (72) cm (47 (28) inch.)

Numbers in parentheses for depth and height are when the chair is in maximum recline.

Reclining Angle
Stepless (electric motor reclining) from approximately 110° to approximately 165° relative to the horizontal plane
Weight
Approx. 63 kg (139 lbs.)
Heater